The GALACTICA project will promote and finance 8 knowledge expeditions to promote cross-sectoral innovation between the production technologies, textile and aerospace sectors that will take place in October and November
The GALACTICA project, of which PRODUTECH is a partner, will promote 8 knowledge expeditions for which travel vouchers accessible through expressions of interest are available.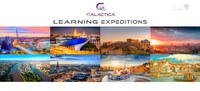 These knowledge expeditions provide an opportunity to visit, learn and learn about the success stories of leading companies from different industrial sectors.
The aim is to promote experiences that lead to cross-sector collaboration through visits to leading companies in their field (i.e. Airbus Composite, Lufthansa Technik, ANTEX, among others) and top research facilities (German Aerospace Center (DLR), Fraunhofer IFAM, LEITAT Technological Center, IRT Jules Verne, ZAL -Center for Aeronautical research, ...) followed by networking events between participants and different local companies.
Startups and SMEs can apply for travel vouchers up to €650 to participate in one of GALACTICA's knowledge expeditions.
Expressions of interest for the first 4 expeditions are already open:
- Valencia, Spain -> call until 9 september;
- Seville, Spain -> call until 16 september;
- Athens, Greece -> call until 23 september;
- Florence, Italy -> call until 30 september.
More Information and registration: https://galacticaproject.eu/galactica-learning-expeditions/
[GALACTICA COMMUNITY: https://matchmaking.galacticaproject.eu/]: register and explore the opportunities that this platform offers
[+ INFO about the project: https://galacticaproject.eu/
| | |
| --- | --- |
| | This project has received funding from the European Union's Horizon 2020 research and innovation programme under grant agreement No 872336. |