Project DISRUPTIVE organises a general meeting in a face-to-face format
The project DISRUPTIVE, of which PRODUTECH is a partner, holds the 2nd meeting of the project progress in Bragança.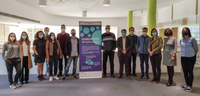 The project DISRUPTIVE – Dynamization of Digital Innovation Centers (DIH) in the PocTep region for the promotion of disruptive and next generation ICTs through cooperation in the croo-border region, of which PRODUTECH is a partner, gathered all partners, in person in Bragança on October 26th 2021.
The meeting took place at the Polytechnic Institute of Bragança, where the progress of the project was analysed, the deviations due to the Pandemic, as well as the next steps.
This project has as partners the University of Salamanca (Spain), ICE - Institute for Business Competitiveness of Castilla y León (Spain), Cartif Foundation (Spain), INCIBE - National Institute of Cybersecurity of España, S.A (Spain), University of Valiiadolid (Spain), ISEP - Institute of Engineering of Porto (Portugal), PRODUTECH - Association for Sustainable Production Technologies (Portugal) and IPB - Polytechnic Institute of Bragança (Portugal).
The DISRUPTIVE project is co-financed by the European Regional Development Fund (ERDF) through the Interreg V-A España-Portugal Programme (POCTEP) 2014-2020.




Axis 1 - Smart growth through cross-border cooperation to boost innovation.