PRODUTECH 4S&C held its Annual Conference on 30 November
The project Mobilizer PRODUTECH 4S&C organised the 2nd Annual Conference in the Consuelo Vieira da Costa Auditorium of ISAG.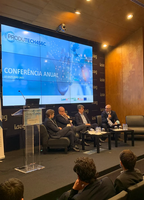 The second Annual Conference of the project PRODUTECH 4 S&C - PRODUTECH Sustainable & Circular was held last 30th November.
The event was attended by several entities, and the opening counted with the presence of Eduardo Bacelar Pinto, Member of the Board of Directors of ANI - National Agency for Innovation, Fernando Sousa, Chairman of the Board of Directors of PRODUTECH, José Oliveira, Industrial Director of COLEP Packaging and Nuno Araújo, General Director of CATIM.
In the conference were presented the results of the project, so far, as well as aligned the next steps, associated with the consolidation of concepts and their materialization.
The conference was composed by three main panels representing three industrial demonstrators of the project:
- Supply chain / energy - COLEP
- Product development/robotics technologies - JPM
- Sustainability - MC Shared Services.