PRODUTECH will be at the 19th edition of EMAF – International Fair of Machines, Equipment and Services for the Industry
PRODUTECH will be actively present at EMAF 2023, from 31 May to 3 June.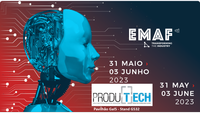 PRODUTECH will participate in a very active way in this, the largest Portuguese event of the industrial sector.
At the PRODUTECH booth you can watch demonstrations of solutions in the areas of Robotics and Automation, Collaborative Robotics, Virtual Reality, Digital twins, among other, as well as the results of innovative projects and cooperation in the field of production technologies and in particular the Mobilizer Project PRODUTECH 4S&C.
Visit us at GaI5 Pavillion, Stand G532.
The PRODUTECH will also be present in 2 parallel activities to the fair, on June 2 in the morning the Forum PRODUTECH and in the afternoon the Conference Circularity in Industry.
The joint initiative: Forum PRODUTECH, EIT Manufacturing and Final Conference PRODUTECH 4S&C will take place on June 2nd at Room B1 of Exponor Congress Centre, from 9a.m.
>> More information Forum PRODUTECH
>> Forum PRODUTECH registration.
The conference Circularity in Industry - How to reduce waste production, on 2nd June at 14h, room B1, Exponor Congress Centre.
>> More information Conference Circularity in Industry
>> More information about EMAF
Important Note:
All participants must request the EMAF electronic invitation available at: Invitation Request | EMAF 2023 | Exponor
You can use the Exhibitor Code: #produtech
This invitation is free of charge until 30 May 2023. After that date, the professional ticket will cost 5€ if purchased online. The purchase of a professional ticket at EMAF check-in will cost 10€.
The participation of PRODUTECH in EMAF 2023 falls under the project "PRODUTECH Qualificação 2020", co-financed by COMPETE 2020.