PRODUTECH R3 Mobilising Agenda signs Agreement
On 17 September the Term of Acceptance for the PRODUTECH R3 Mobilising Agenda was signed in a public session with the Prime Minister at the Pavilhão do Conhecimento in Lisbon.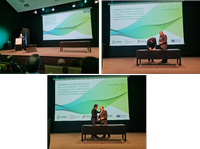 The contractualisation ceremony for 18 Mobilising Agendas for Business Innovation took place on 19 September.
The PRODUTECH R3 (Recovery-Resilience-Reindustrialisation) Agenda was represented by the leading promoter, COLEP Packaging (Paulo Sousa - CEO) and PRODUTECH (José Caldeira).
In the PRODUTECH R3 Mobilising Agenda, 45 companies from the Production Technologies Sector, 37 companies from 17 industrial sectors and 26 entities from the Scientific and Technological System and Associations are participating. With 167 M€ Investment and 97 M€ incentive. It proposes the creation of 108 new products and services to be implemented in 53 pilots.