PRODUTECH present at the 3rd Stakeholder Forum, a DEI initiative
From 13 to 14 November, Madrid received the 3rd Stakeholder Forum by the EC DEI – Digitising European Industry Initiative.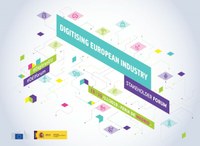 This year's edition, organised by the European Commission and the Spanish Ministry of Industry, Trade and Tourism, focused on "Artificial Intelligence and Digital Innovation Hubs - beyond 2020".
PRODUTECH as well as different actors involved in the digital value chain had the opportunity to share experiences, good practices and discuss the future of EU digital industrial policy.