PRODUTECH participated in the AD&C seminar on the impact of European Union Funds on the Portuguese territory.
Promoted by AD&C, the seminar "Evaluation of the Impact of European Union Funds - Results in Territorial Approaches" took place on 26 November at the S. Luiz Theatre in Lisbon, and PRODUTECH was invited to speak at one of the panel discussions.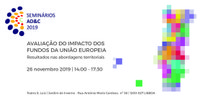 Aiming at presenting the conclusions of two studies, in the context of the assessment of the implementation of intelligent specialization strategies in Portugal and of the operationalization of the territorial approach of Portugal 2020, this event gathered two hundred participants and was attended by the Minister of Planning, Nelson de Souza, the Minister of Territorial Cohesion, Ana Abrunhosa and the Director of the Portugal and Spain Unit of the Directorate General for Regional and Urban Policy of the European Commission, Carole Mancel Blanchard.
PRODUTECH was invited to join the panel discussion of the conclusions of the study "Evaluation of the implementation of the national and regional research strategy for an intelligent specialization (RIS3): network, achievements and expected results".
For more information at (Portuguese language only):
https://www.portugal2020.pt/content/estudos-sobre-avaliacao-do-impacto-dos-fundos-da-uniao-europeia