PRODUTECH OPENDAY@Curtumes Boaventura
On March the 20th took place another PRODUTECH OPENDAY, in partnership with RECET, this time along with CTIC and Curtumes Boaventura. This company produces and commercializes leather, having customer satisfaction as its main priority, as well as respecting the environment and surrounding community.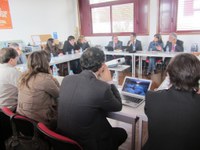 Curtumes Boaventura is the only company of tanneries in the Iberian Peninsula with an integrated management system certification (ISO9001 and ISO14001).
This OPENDAY featured a presentation of CTIC, under the theme "Technology Challenges and Opportunities in the Leather Industry", and a presentation of the company about its challenges, opportunities, and key constraints in the context of the technological processes involved in its operation.
After the visit to the company's manufacturing facilities, the participants had a fruitful discussion period, in which several opportunities for cooperation and networking were identified, and some are already being developed by the participating companies.