PRODUTECH OPEN DAY@INESC TEC
On march 23rd, took place another PRODUTECH OPEN DAY, this time at INESC TEC.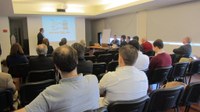 The Institute for Systems and Computer Engineering, Technology and Science – INESC TEC is an Associate Laboratory with 30 years of experience in R&D and technology transfer. 
INESC TEC invests in Scientific Research and Technological Development, as well as in Advanced Training and Consulting, Technology Transfer and supports the Establishment of new Technology-based Companies.
INESC TEC was created to act as an interface between the academic world, the world of industry and services and the public administration in Information Technologies, Telecommunications and Electronics (ITT&E).
This PRODUTECH OPEN DAY featured a presentation of INESC TEC capabilities, competences and valences as well as practical examples of project results. This event aimed to promote opportunities for cooperation and business between companies of production technologies and INESC TEC.
After visiting the laboratories, there was a discussion period, in which several cooperation and project opportunities were identified.
More information about INESC TEC in:www.inesctec.pt