PRODUTECH OPEN DAY do MAR @GELPEIXE
On may 30th, 2016, took place another PRODUTECH OPEN DAY, integrated in PRODUTECH OPEN DAYS do Mar, initiative promoted by PRODUTECH and SEA FORUM which integrates a set of OPEN DAYS in companies that belong to the sea row.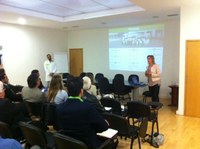 This event took place in the company "Gelpeixe, Alimentos Congelados S.A " which focuses its activity in the processing and commercialization of frozen food.
Gelpeixe is a company of frozen food industry and trade that wants to be known and recognized by the highest quality of its products. It aims to cover the entire national market and strengthen the conditions for expanding to the international market, based on a sustainable growth.
In the market since 1977, currently it is assumed as a reference company in the frozen market.
This OPEN DAY featured a presentation of the company Gelpeixe where were identified challenges, opportunities and key constraints within the production processes involved in their operation.
After visiting the shop-floor, there was a discussion period, in which several cooperation and project opportunities were identified.
More information about Gelpeixe in: www.gelpeixe.pt