PRODUTECH one of the key actors of the National Strategy for Intelligent Specialization
PRODUTECH presented in the TECH3 program of RTP 3, on april 18, 2020, examples of the alignment with the National Strategy of intelligent Specialization (ENEI - Estratégia Nacional de Especialização Inteligente).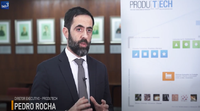 RTP 3 – Portuguese Radio Television, in association with ANI – National Innovation Agency, has presented in the TECH3 programme (a programme about technology and science), a series of reports on collaboration in science and technology-based innovation.
PRODUTECH was invited to give its testimony of interaction and cooperation with science, technology and industry, in the field of production technologies.