PRODUTECH held DIH2 Infoday
Last January 22nd, PRODUTECH Digital Innovation Hub Platform held an Infoday within the scope of the European DIH2 project, with the presence of about 30 participants from various productive and technological companies.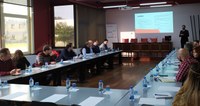 In the Infoday it was presented the DIH2 project - PanEuropean Network of Robotics DIHs for Agile Production and the application process for the 2nd stage of the OPEN CALL for industrial experiments (ended on February 27,2020).
In the event were also presented the requirements for the use of FIWARE within the experiments, by Francisco Melendez from FIWARE, demonstrations of this platform, as well as cases of implementation of FIWARE-based solutions in Portuguese industry were presented by Professor João Sarraipa of UNINOVA and Professor João Mendonça of CCG and University of Minho.
The event also provided networking moments among the various participants.
This project has received funding from the European Union's Horizon 2020 research and innovation programme under grant agreement No 824964.