PRODUTECH FORUM 2014 e Conference of Mobilizing Projects PRODUTECH PSI AND PRODUTECH PTI
PRODUTECH – Production Technologies Cluster, in straight cooperation with CATIM (the Technical support Center for the Metalworking Industry) organized at EMAF 2014-International Fair of Machinery, Equipment and Services for the Industry (EXPONOR, Leça da Palmeira) on 19th November the Forum PRODUTECH 2014 and Conference of the Umbrella Projects PRODUTECH-PSI and PRODUTECH-PTI.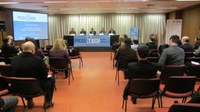 This event aimed to discuss the major challenges of the manufacturing and production technologies industry, to present the results of the umbrella projects PRODUTECH PSI- New Products and Services for the Manufacturing Industry and PRODUTECH-PTI- New Processes and Innovative Technologies for the Production Technologies Industry, and to launch the Production Technologies Portal, which is expected to become in a very short time in a national and international showroom of the Portuguese Production Technologies.
The event also featured presentations by national and international experts in areas such as advanced manufacturing technologies and exploitation of results of R&D and innovation at the European level.
Moreover, PRODUTECH was also present at the fair with an institutional stand, where it were demonstrated the results of the PRODUTECH's Umbrella Projects. These projects have involved a broad and multidisciplinary consortium in the research, development and demonstration of new solutions and innovative production technologies applications. The results shown advance technical and industrial breakthroughs applicable in a variety of industrial sectors.
With an audience of over 80 participants, the event also included the presentation of production technologies portal. The portal aims to formalize and advertise production technologies while promoting industrial companies, their products, services, solutions and competencies. The portal is available at: http://portal.produtech.org
Coordinated by CATIM, the umbrella projects PRODUTECH PSI (n.º 13849) and PRODUTECH PTI (nº 13851) have involved a global consortium of 42 partners, suppliers of production technologies, industrial end-users and R&D organizations. With a global budget of 12 Million, the projects have been partly funded by the Incentive System for Technology Research and Development in Companies (SI I&DT), under the Competitive Factors Thematic Operational Programme, of the Portuguese National Strategic Reference Framework, and EU's European Regional Development Fund.
More information about the umbrella projects PRODUTECH-PSI and PRODUTECH-PTI: http://mobilizadores.produtech.org/