PRODUTECH establishes cooperation agreement with EIT Manufacturing CLC West
On March 1st of this year, PRODUTECH and EIT Manufacturing CLC West signed an agreement that aims to establish and expand cooperation between the two entities, and that will lead to opportunities for the ecosystems of actors belonging to these organizations.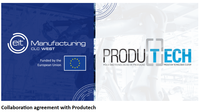 EIT MANUFACTURING WEST is one of the five EIT Manufacturing centres, covering Portugal, Spain and France. EIT Manufacturing is an Innovation Community supported by the European Institute of Innovation and Technology (EIT) that connects the key players of the manufacturing industry in Europe. Powered by a strong interdisciplinary community, EIT Manufacturing aims to leverage European products, processes, services, aiming to leverage a globally competitive and sustainable manufacturing industry.
This cooperation agreement, besides foreseeing the launch of joint initiatives, will also allow companies and entities of the PRODUTECH Cluster to participate in EIT MANUFACTURING WEST activities in the scope of:
1) Education, Innovation and Business Creation
2) The dissemination of founding opportunities
3) Training actions, promoted by EIT MANUFACTURING WEST, among others.