PRODUTECH DIH takes part in the EUHUBS4DATA project
The PRODUTECH DIH is one of several European DIHs that are part of the EUHUB4DATA project network.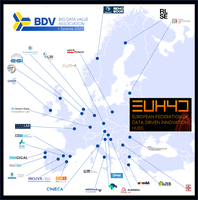 PRODUTECH Digital Innovation Hub  is part of the EUHUBS4DATA project as part of the 1st Open Call for DIH - Digital Innovation Hubs in 2021.
The  EUHUBS4DATA – European Federation of Data Driven Innovation Hubs, has created a European federation of 30 Big Data Digital Innovation Hubs (DIH), with the ambition of becoming a reference tool for cross-border experimentation and innovation based on data and supporting the growth of European SMEs and start-ups in a global data economy.
The integration of the PRODUTECH Digital Innovation Hub into this network has enabled national companies to access a range of services and funding opportunities, within the framework of calls for tenders for the implementation of innovations that the project has promoted. Participation in online and face-to-face events, such as various editions of DATA WEEK and DATA FORUM, dedicated to data-related topics.
Companies also have available:
- a catalogue of services provided by PRODUTECH DIH and DIHs in the network;
- Access to datasets provided by EUHubs4Data members and open data sources, ready for use;
- Training provided by the various members of the network.
In this context, PRODUTECH DIH recently saw its i-Space certification renewed at Gold level by the BDVA - Big Data Value Association. The BDVA recognises the quality of existing data experimentation and innovation centres in Europe and guarantees that the innovation environments provided by these initiatives meet the necessary requirements to drive data and AI-based innovation at a local level, but also collaboration with similar initiatives to promote adoption at a European level.