PRODUTECH DIH recognised as Portuguese Digital Innovation Pole
PRODUTECH DIH was presented during the session "Innovation in the Digital Age" on 30 November 2021, as one of the 17 Digital Innovation Hubs recognised by the national authorities.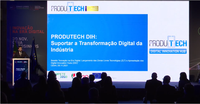 On November 30th, at the"Innovation in the Digital Era" session promoted by the National Innovation Agency - ANI, the Agency for Competitiveness and Innovation - IAPMEI, the Directorate General for Economic Activities - DGAE and the Mission Structure Portugal Digital, the 17 Digital Innovation Hubs that will form the national network were presented.
The PRODUTECH Digital Innovation Hub is one of the Innovation Hubs that will integrate the national network. In this session it presented its main valences: to promote the digitalisation of the manufacturing industry, through an intervention directed to production technologies and leveraging the role that these assume in digital transformation.
>> More information about the event
>> More information about Portuguese Digital Innovation Poles.