PRODUTECH DIH participates in Safety and Well-being of Workers Experiment of the DIH4CPS Project
PRODUTECH DIH was involved in the Safety and Wellbeing of Workers Experiment of the DIH4CPS Project, together with companies.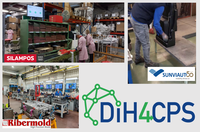 PRODUTECH participated in the experiment "Safety and Wellbeing of Workers - CPS for security and wellbeing of shop floor workers", integrated in the Project DIH4CPS - Fostering DIHs for Embedding Interoperability in Cyber-Physical Systems of European SMEs, coordinated by UNINOVA and of which PRODUTECH is a partner.
This experiment besides the application of CPS technologies, also intended to promote the interaction of DIHs with other entities, in order to support the development and implementation of new CPS technologies in user enterprises.
In this sense, PRODUTECH DIH motivated the participation in the experiment of 3 companies that use production technologies, SILAMPOS, RIBERMOLD and SUNVIAUTO, which once again we thank for their availability.
In this experiment, sensor and SPC systems of critical workplaces in terms of occupational health were tested, in order to alert operations to the adoption of incorrect postures harmful to their health. Exercises to ease the bad postures adopted by the workers were also tested. These technologies were developed by UNINOVA in collaboration with KnowledgeBiz.
>> More information about the Experiment
>> More information about DIH4CPS project
| | |
| --- | --- |
| | Project DIH4CPS is co-financed by the Horizon 2020 Research and Innovation Programme of the European Union under Grant Agreement Nr. 872548. |