PRODUTECH DIH organises EUHubs4Data Regional Workshop on "Data in Industry: opportunities and challenges" 26th May
Integrated in DATAWEEK22, the PRODUTECH DIH organises the EUHubs4Data Regional Workshop, in online format, next 26th May at 14:30h, under the topic "Data in Industry: opportunities and challenges". Registrations are already open.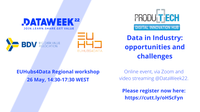 The EUHubs4Data Regional Workshop organised by PRODUTECH DIH with the theme "Data in Industry: opportunities and challenges" will take place on 26 May from 14:30 pm to 17:30 pm (Portuguese time).
It will discuss the evolution of data management architectures, pointing to their characteristics and their role in data-driven information systems that support advanced data analytics environments. This includes the presentation of the Technology for Adaptive Data Analytics (TADA) concept, which uses Machine Learning and Metaheuristics for data-based decision support, and a general presentation describing common issues and challenges related to data management when deploying artificial intelligence (AI) solutions in manufacturing settings. The importance of data in industry and in smart grid applications will be discussed based on their opportunities and technological challenges. More information.
Participation is free of charge but registration is compulsory since there is a limited number of participants. You can register here.
This workshop is part of DATAWEEK22, a joint initiative of BDV and EUHubs4DATA, which will take place from 24 May to 9 June in different locations and in collaboration with several DIHs of the BDV - Big Data Value Association network, of which PRODUTECH DIH participates.
DATAWEEK starts on 24 May with online sessions on the event platform, from 25 May to 3 June it will have workshops in online and face-to-face format in various locations. From 8 to 9 June it will have closing face-to-face sessions in Naples.