PRODUTECH attended the European Cluster Conference
The European Commission's annual cluster event took place on 10-11 November in a fully online format. PRODUTECH as the Production Technologies cluster also participated.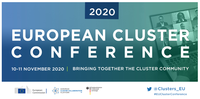 The European Cluster Conference, organised by the European Commission's Directorate-General for Internal Market, Industry, Entrepreneurship and SMEs together with the German Federal Ministry for Economic Affairs and Energy under the German Presidency of the Council of the EU, took place this year in full online format.
The event brought together 82 experts speakers from the European Commission, Member States, key stakeholder networks, cluster organisations and business in plenary sessions and panel discussions, as well as thematic and sectoral workshops, pitching sessions, matchmaking and virtual cluster exhibition. PRODUTECH was present in a virtual stand and participated in the remaining events of the conference, allowing the dissemination of our projects and associates, to know new topics, as well as extending the network of contacts for future partnerships.