PRODUTECH and UNIOVA promote Webinar on Cyber security - RGPD - Data protection
PRODUTECH supports UNINOVA in the organisation of a Webinar on Cyber security - RGP - Data protection – 13 May 2022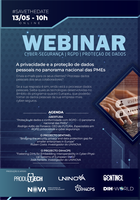 The Webinar on Cybersecurity - RGPD - Data Protection was successfully held on 13 May 2022 at 10 am.
The Webinar was organised by UNINOVA (New Technologies Development Institute) with the collaboration of PRODUTECH, and was essentially aimed at companies in the field of Production Technologies.
In this event were presented some results of several ongoing projects related to Cybersecurity, RGPD and Data Protection, namely the project DIH4CPS - Fostering DIHs for Embedding Interoperability in Cyber-Physical Systems of European SMEs, coordinated by UNINOVA and in which PRODUTECH is a partner.