PRODUTECH and EIT Manufacturing organise information session on the 1st Call 2024 for Innovationa Webinar to present the call 2024, on May 4.
PRODUTECH and EIT Manufacturing are organising a Webinar to present the call 2024, on May 4.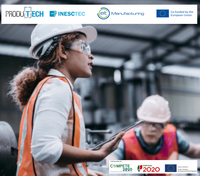 The Webinar organised by PRODUTECH and EIT Manufacturing to present the opportunities of the 1st EIT Manufacturing Call 2024 for Innovation will take place on 4 May from 10am to 11:30am.
EIT Manufacturing is one of the nine innovation communities that make up the European Institute of Innovation and Technology (EIT), a body of the European Union, and the largest industrial innovation network in Europe. The goal of the session is to present the Call for proposals 2024, whose deadline to present new projects began on April 18th. This annual call launched by EIT Manufacturing aims to encourage collaborative projects that address key challenges in the manufacturing industry, such as digital transformation, sustainability, and the circular economy.
This year's call will mainly focus on around three themes:
• Optimising production processes and increasing resources efficiency through digital solutions;
• Socially sustainable and human-centric manufacturing;
• Environmentally sustainable manufacturing through circular business models and new technologies.
We invite you to join this webinar to familiarize yourself with the specific requirements of the call, its preparation and submission of proposals.
The agenda of the session will feature the following moments:
- Opening and Welcome |Pedro Rocha -  PRODUTECH Executive director.
- What is EIT Manufacturing? |Antoni Pijoan - Managing Director at EIT Manufacturing West.
- Presentation of the Call for Proposals 2024 | Teresa Hernández - Innovation Manager at EIT Manufacturing West.
-What can EIT Manufacturing offer you? | Antoni Pijoan - Managing Director at EIT Manufacturing West.
- Questions and answers.
Participation in the event is free of charge, but registration is mandatory.
Take this opportunity to know the next EIT Manufacturing challenges.
>> More information about EIT Manufacturing
This event, and the opportunities disclosed therein, are part of the "PRODUTECH Qualification 2020" project, co-financed by COMPETE, which aims to create the basic conditions to enable the transition of the Production Technologies Sector to the paradigms of Industry 4. 0 paradigms, based on digitalisation and efficient and circular production, through the development of a set of training actions for SMEs in the sector in various competitive and strategic areas, and the promotion of initiatives that induce the adoption of new technologies and new opportunities for cooperation between companies in the sector and entities of the scientific and technological system, which will generate synergies and knock-on effects to the economic fabric involved.