PRODUTECH 4S&C organises Annual Conference on 30th November
The Annual Conference of the project PRODUTECH 4S&C Mobilizer is already on the 30th November, at ISAG, Porto.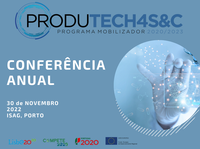 The project Mobilizer PRODUTECH 4 S&C - PRODUTECH Sustainable & Circular will hold its Annual Conference, on November 30th, at 14:15 in ISAG, Porto.
This conference aims to present the project developments so far. 
It will address issues related to Circularity and Industrial Sustainability.
Participation is free of charge, but registration is mandatory.
>>More information about the Conference
>>More information about PRODUTECH 4S&C Mobilizer Project
Don't miss this opportunity to interact with companies supplying production technologies, entities of the scientific system and companies using production technologies.