Portugal will have 2 projects financed by DIH2
From the 96 projects applying for the 2nd phase of the 1st DIH2 OPEN CALL, 2 Portuguese projects were selected.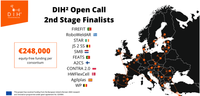 The DIH2 project – Pan European Network of Robotics DIHs for Agile production held at the end of April the jury day, to select the finalists of the 1st OPEN CALL.
Portugal was represented by 3 innovative projects in industrial robotics area. 11 projects from 9 countries were selected, which will receive up to 248 000 euros for implementation/exploitation of each experiment. From the 11 finalists 2 projects are from Portugal, FIREFIT and FEATS project, which will soon start the implementation and testing of the proposed new technologies.
The FIREFIT – Fiware Ready Quality Control for packaging Systems in the Food Industry project will be developed by INTROSYS and applied in A.Pires Lourenço & Filhos S.A company.
The FEATS – FIWARE- Enabled Autonomous Transport system project will be developed by Dalmasys Lda and implemented in DURIT – Metalurgia Portuguesa do Tungsténio, Lda.
PRODUTECH is the Portuguese partner that integrates the DIH2 project consortium, through one of the Digital Innovation Hubs initiatives that it has been co-promoted, namely the PRODUTECH DIH Platform.
PRODUTECH assumes in the DIH2 a function of national ecosystem stimulation for the project activities, including the promotion, facilitation and support to the participation of national companies in the implementation of pilots in industrial environment, including those approved in the first open call.
https://spaces.fundingbox.com/spaces/dih2-general/5ec256a6181e772ad8f9df04