PIMAP+ Project promotes several activities
The PIMAP+ project, of which PRODUTECH is a partner, continues to promote many different activities for companies.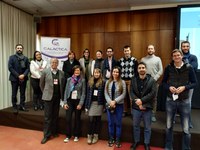 The PIMAP+ - Photonics For Advanced Manufacturing Plus project intends to establish an effective inter-clusters collaboration at the European level, aiming to implement a joint internationalisation strategy, directed to the markets of the USA, Canada, Japan and China; to support the establishment of new value chains made up of SMEs for the consolidation of an offer of advanced production technologies powered by new applications of photonics and other enabling technologies and directed to the markets of the metal-mechanic industry, aeronautics, among others.
In this sense it has promoted several activities, from forums, visits to fairs and conferences, among which the participation in EMAF and Forum PRODUTECH last December 3.
To know in more detail the various activities, main conclusions and future activities, you can consult the project's newsletter.
>> More information about PIMAP+
| | |
| --- | --- |
| | This project is funded by the European Union's COSME Programme. COSME [COS-CLUSINT-2019-3-01] | Strand2A. Strategic Cluster Partnership – Going International (ESCP-4i). |