Opportunities to help combat COVID-19
In the face of the COVID-19 pandemic, several initiatives have been launched to bring together efforts to combat this calamity by minimizing associated impacts, both at the health level, but also at the social and economic level. We have brought together some of these initiatives on know-how gathering and on pooling synergies, at national and European levels.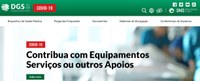 At the moment, time is a critical factor, so it is urgent to increase everyone's agility and flexibility to combine different experiences and knowledge in order to help find new solutions to reduce the spread of the virus, and combat its public health, social and economic consequences. The quicker the solutions are found to combat the spread, the quicker society can return to "normality".
Some initiatives developed by stakeholders:
- DGS – Direção Geral de Saúde - has made available on its website the possibility for institutions, companies or individual citizens to collaborate with the SNS – Serviço Nacional de Saúde,  contributing with equipment, services or other support. It is also available the possibility to integrate the national catalogue of Personal Protection Equipment.
- ANI - National Innovation Agency, is collecting and disseminating information on solutions and technologies developed by companies and other national organizations of the scientific and technological system, to respond to the negative impacts of the COVI-19 pandemic.
https://www.ani.pt/pt/noticias/notícias-ani/covid-19-ani-divulga-soluções-e-tecnologias/
- CITEVE - the Technological Center for Textile and Clothing of Portugal - is articulating the availability of materials and equipment in order to find solutions for the supply of healthcare materials and medical face masks.
https://www.citeve.pt/artigo/covid25032020
At European level we highlight an OPEN CALL, organized by Blumorpho in collaboration with Euroscan and the European Health Authorities and various partners, to give visibility to solutions that can help health professionals and citizens in the fight against COVID-19. The proposed solutions will be evaluated by the European Network of Health Authorities. https://www.blumorpho.com/unitedagainstcovid19.html