MANU-SQUARE Platform – A new digital platform for industry
Next June 23rd at 10:30 CET (09:30 Portuguese time), the European consortium MANU-SQUARE, of which the national organisations PRODUTECH, INESC TEC and JPM Indústria are part of, is organising the final event of the MANU-SQUARE Project, which will take place online.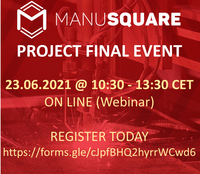 The European consortium MANU-SQUARE - MANUfacturing ecoSystem of QUAlified Resources Exchange, is organizing the final event of the Project where the MANU-SQUARE platform and its tools will be presented.
The presentation will take place on June 23rd at 10:30 CET, where internationally renowned speakers from the Industry and Innovation System will give their perspective on the trends in digital platforms for Industry and the presentation of the technological solutions that were the basis for the development of the MANU-SQUARE platform.   MANU-SQUARE
Register on the platform and start exploring new business opportunities today.
Register for the webinar today and secure your seat:  :  https://forms.gle/cJpfBHQ2hyrrWCwd6.
From the tools included in the MANU-SQUARE platform, we highlight the following:
- Capacity Sharing Tool: specially designed to support subcontracting processes, generating new business opportunities for companies, on a European scale.
- Innovation Manager Tool: tool developed to support innovation processes, enabling case-based connections between companies and entities of the technological system.
- Idea Manager Tool: destined to support processes of ideation/open innovation.
For more information, visit us at:
In the meantime, follow us on social media:
- Linkedin: www.linkedin.com/company/12616455/
- twitter: https://twitter.com/eumanusquare
- YouTube: https://www.youtube.com/channel/UCFJEJw5RfvBLkK5r2GTTpbA
MANUSQUARE project is co-financed by the Horizon 2020 Research and Innovation Programme of the European Union under Grant Agreement Nr. 761145.