Kick-off meeting of CLAMTEX European project in Terrassa
PRODUTECH is a partner of CLAMTEX, an European project aiming at strengthening cluster management skills to support SMEs in production technology and textile sectors.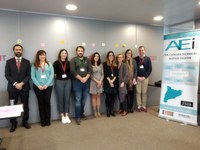 CLAMTEX is one of 13 new consortia funded at European level under the Cluster Excellence programme. It is a partnership made up of five clusters, AEI TÈXTILS in Catalonia, ATEVAL in Valencia, EMC2 in France, and Cluster Textile/CITEVE and PRODUTECH in Portugal.
The launch meeting took place in Terrassa, Spain, on 4 and 5 March 2020, organized by AEI TÈXTILS, the Catalan textile cluster.
In parallel with the strengthening of cluster teams skills with a view to stimulating the innovation ecosystem of the textile industries and production technologies, encouraging inter-sectoral and inter-regional collaboration to facilitate digital transformation within and outside the project. The ClusterXchange pilot scheme will be implemented, SME-driven, which allows organizations to improve their innovative and networking capabilities through visits to foreign host organizations (clusters, companies, research centers, among others).