Joint initiative: Forum PRODUTECH, EIT Manufacturing and PRODUTECH 4S&C Annual conference – 2 June
On the 2nd June the Forum PRODUTECH, EIT Manufacturing and the Final Conference of the Mobilising Project PRODUTECH 4S&C will take place at EMAF.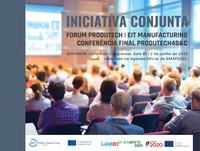 The joint initiative: Forum PRODUTECH, EIT Manufacturing and Final Conference PRODUTECH 4S&C will take place on June 2nd at Room B1 of Exponor Congress Centre, integrated in the official agenda of EMAF - International Fair of Machinery, Equipment and Services for Industry.
 As in previous initiatives, the event will feature reference speakers, who will address several areas relevant to the future of industry, from New solutions for a more sustainable industry; Smarter production - more efficiency, less resources; Supply chains - energy; among other topics.
The participation in the event is free of charge, but subject to prior registration up to the room capacity limit.
PRODUTECH will also be present in the 19th International Fair of Machines, Equipment and Services for the Industry - EMAF, as exhibitor, in the stand GaI5 | G532.
In the PRODUTECH stand, it will be possible to watch demonstrations of solutions in the areas of Robotics and Automation, Collaborative Robotics, Virtual Reality, Digital Twins, among others, as well as the results of innovative projects and cooperation in the scope of production technologies and in particular of the Mobilizer Project PRODUTECH 4S&C.
>> More information about EMAF
Important Note:
Since access to the seminars and presentations held at the Congress Centre takes place through the EMAF trade fair space, it will be necessary to comply with the access rules established for it. All participants in the Joint Initiative (FORUM PRODUTECH, EIT MANUFACTURING and PRODUTECH SIF) must request the EMAF electronic invitation available at: Invitation Request | EMAF 2023 | Exponor You can use the Exhibitor Code: #produtech
This invitation is free of charge until 30 May 2023. After that date, the professional ticket will cost 5€ if purchased online. The purchase of a professional ticket at EMAF check-in will cost 10€.