Innovation Talk on "O papel da Fileira das Technologias de Produção na Transformação da Indústria" on 16 December
The next Innovation Talk, on December 16, promoted by ANI and PRODUTECH will discuss the transformation trendencies operating in the industry, with direct streaming on ANI´s Facebook.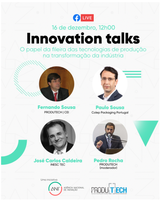 ANI - National Innovation Agency has organized several Innovation talks.  The next one is on December 16th, at 12h and will be held in partnership with PRODUTECH - Cluster of Production Technologies, under the theme "The role of the production technologies sector in the transformation of the industry".
In this Innovation Talk will be discussed the trends of industry transformation, the role played by the cluster, as well as collaborative processes for innovation between the cluster and companies in the manufacturing industry sectors, strengthening the transition and resilience of national industry.
The debate moderated by Pedro Rocha, Executive Director of PRODUTECH, will count with Fernando Sousa, Managing Partner of CEI - Companhia de Equipamentos Industriais, Paulo Sousa, CEO of Colep Packaging Portugal and José Carlos Caldeira, INESC TEC Administrator.
The session will be broadcasted in ANI's  Facebook and later available in ANI's website and Youtube channel.