GALACTICA project Webinar on Product certification and Integration in Aerospace – March 10th
The GALACTICA project is organizing a series of 10 Webinars, the next one will be on March 10th on "Product certification and Integration in aerospace", registration is already open.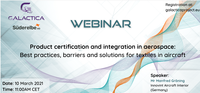 The project GALACTICA – Smart industrial innovation as enabler to drive new value chain for textiles and aerospace, of wich PRODUTECH is partner. With this series of weekly webinars, GALACTICA aims to create synergies between the different sectors involved in the projct, in view of the first Open Call, that will start on 24th March 2021, with a budget of 1,2 million euros to support European SMEs.
The upcoming Webinar is already  on March 10, on "Product certification and integration in aerospace: Best practices, barriers and solutions for textiles in aircraft.