Final meeting of DIH2 project held in Ireland
The DIH2 project gathered its partners at the IMR in Ireland to close the project on 11 to 12 July.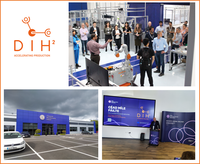 The DIH2 - Pan-European Network of Robotics DIHs for Agile Production project, in which PRODUTECH is a partner, came to the end last June.
The consortium held the project's final meeting at IMR - Irish Manufacturing Research. Besides analysing the results of the project and discussing future work, a Robot Day was also held, with a visit and demonstration of the various IMR technologies.
The DIH2 project is made up of 37 partners from 27 European countries, initially bringing together a network of 26 DIH (Digital Innovation Hubs), with PRODUTECH being the Portuguese DIH.
Throughout the project, many activities have taken place in which several companies and national entities have taken part (Robot Days, Robotics Training, Sponsor Programme, DIH2 Factor, etc.). We would like to highlight the Portuguese projects FIREFIT – Fiware Ready Quality Control for Packaging Systems in the Food Industry and FEATS – FIWARE-Enabled Autonomous Transport System, funded under the project's 1st Open Call and supported by mentors from PRODUTECH DIH, Euroepan DIHs and other project partners.
>> More information about DIH2
DIH² is co-financed by the Horizon 2020 Research and Innovation Programme of the European Union under Grant Agreement Nr. 824964. 

Horizon 2020 – Innovation Action [Horizon 2020-UE]