FEATS Portuguese DIH2 experiment, supported by PRODUTECH, ends successfully
FEATS one of the 2 Portuguese experiments of project DIH2, supported by PRODUTECH as Portuguese DIH, finished in July the final revision with high performance.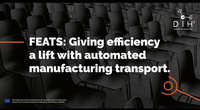 The European Project DIH2 - Pan-European Network of Robotics DIHs for Agile Production, in which PRODUTECH is the Portuguese DIH partner, supported in the 1st Open Call 11 experiments, being FEATS one of the selected ones.
In the scope of DIH2 project, Dalma Robotics in partnership with DURIT - Metalurgia Portuguesa do Tungsténio, Lda, developed an integrated and autonomous system for raw material transport through an AMR, from an automatic warehouse, to several workstations where the material would be later processed. This project was named FEATS - FIWARE-Enabled Autonomous Transport System. It all starts with Durit's ERP system, which triggers the process by sharing work order information with FEATS. FEATS, in turn, manages all information flow and material deliveries according to the information it receives from the automated warehouse and AMR, thus ensuring that material is available at each workstation whenever needed.
FEATS has enabled Durit not only to optimize the entire production process, but also to collect relevant operation data that allows them to improve stock management and workflow. This project was developed and implemented in only 10 months, guaranteeing Dalma the seal of quality and success given by the entire DIH2 consortium.
For Dalma, specialized in the development and integration of systems in Autonomous Mobile Robots (AMR), this was an opportunity to grow, affirm themselves and interact with other European companies and entities, including the technical support of FIWARE, as well as the mentoring of experts from other DIHs besides PRODUTECH, such as IMR - Irish Manufacturing Research, from Ireland and NCR - National Centre of Robotis, from Slovakia.
Dalma continues to work towards scaling FEATS at Durit, however, its potential is easily migrable to other industries and/or market sectors with similar needs.