European Angel Investment summit – Pitch for startups
Start-ups and scale ups looking for funding can take advantage of the opportunity to present themselves to hundreds of investors and companies at the European Angel Investment Summit, 10 and 11 October 2023 in Brussels.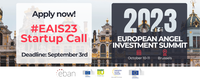 The European Angel Investment Summit, which will take place on 10 and 11 October in Brussels, will have a Pitch session for startups.
Those interested in taking part can submit their application until 3 September.
At an early stage, startups and scale-ups from all industries and sectors can apply, seeking an investment between €50,000 and €5,000,000, based in the EU (European Union) or operating in any EU country.
>> More information contact: vanda.narciso@iapmei.pt