DIH4CPS website finalist of eu.WebAwards
The DIH4CPS project website, of wich PRODUTECH is a partner, is one of the top 3 nominees in the Laurels category of the eu.WebAwards.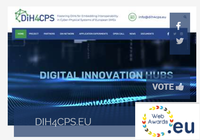 The Web.eu Awards are an online competition, launched in 2014 and designed to recongnize the best websites using the .eu, .ею or .ευ extensions, in six dynamic categories. This competion aims to increase the visibility of websites with these extensions that are innovative, beautiful and impactful.
The DIH4CPS project website was named as a finalist of the eu.WebAwards in the Laurels category.
The final results will be known at the Awards Ceremony on October 14.
The project DIH4CPS - Fostering DIHs for Embedding Interoperability in Cyber-Physical Systems of European SMEs, is a European project coordinated by UNINOVA, of which PRODUTECH is a partner, and currently also participating several Portuguese organizations and associates of PRODUTECH, such as CATIM and Erising.
Project DIH4CPS is co-financed by the Horizon 2020 Research and Innovation Programme of the European Union under Grant Agreement Nr. 872548.