DIH4CPS seeks new DIHs to extend its network
The DIH4CPS project, of which PRODUTECH is a partner, has an Open Call open to integrate new DIHs.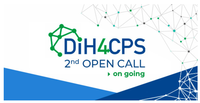 The project DIH4CPS - Fostering DIHs for Embedding Interoperability in Cyber-Physical Systems of European SMEs, of which PRODUTECH is a partner, has opened the 2nd Open Call to extend its network of DIH - Digital Innovation Hubs.
With this Open Call, 8 DIHs will be selected and each one will receive 20 000€ (lump sum). The DIHs should focus on capacity building for European start-ups, SMEs and Mid-Caps to launch innovative products or services with advanced digital technology in the area of Cyber-Physical and Embedded Systems (CPES).
Applications must be submitted by 13 December.
A Webinar will be held on 10 November to clarify the process of application to the Open Call.
>> Webinar Registration - 10 November 10.00 CET.
>> More information Open Call.