DIH4CPS project started with a General Assembly in Lisbon
PRODUTECH attended the Kick-off General Assembly of the European DIH4CPS project coordinated by UNINOVA, from 15th to 17th January in Lisbon, gathering an international consortium of 33 European entities.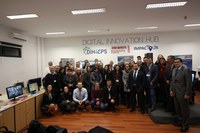 DIH4CPS project - Fostering DIHs for Embedding Interoperability in Cyber-Physical Systems of European SMES is a project that aims to help European companies overcome the innovation obstacles. The project will create a comprehensive, interdisciplinary network of DIHs and providers of integrated cyber-physical solutions, interweaving knowledge and technologies from different fields.
For more information regarding the project, please consult: http://dih4cps.eu/ 
This project has received funding from the European Union's Horizon 2020 research and innovation programme under grant agreement No 872548.