DIH2 – 2nd Open Call - Get up to €248,000 in EU funding for robotics manufacturing solutions
The 2nd call of project DIH2, of which PRODUTECH is a partner, has 248M€ available per experiment, for new robotic solutions to be applied in productive sectors. Applications are open until 15 July (new data).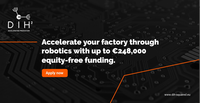 The project DIH2 - Pan European Network of Robotics DIHs for Agile Production, has opened until July 15th the 2nd Open Call for 15 experiments of robotics applications in manufacturing.
PRODUTECH is partner of the DIH2 project and as Portuguese DIH, is currently mentoring 2 experiments from consortiums of Portuguese companies that were selected in the 1st Open Call (FIREFIT and FEATS).
>> +INFO 2nd OPEN CALL
https://dih-squared-2nd-oc.fundingbox.com/
>> +INFO DIH2
DIH² is co-financed by the Horizon 2020 Research and Innovation Programme of the European Union under Grant Agreement Nr. 824964.