CLAMTEX project | Virtual Marketplace 'Towarsds Industry 4.0' – starts on January 20th
CLAMTEX project, of which PRODUTECH is one of the partners, is organising a virtual marketplace to promote innovative technological solutions in the textile manufacturing sector.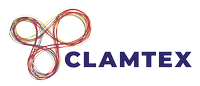 Towards Industry 4.0 - Virtual Marketplace
Industry 4.0 is the future of manufacturing, also for the textile industry and as such an opportunity for the advanced production technologies.
CLAMTEX partnership, is organizing an interactive virtual workshop/marketplace for promotion the uptake of Industry 4.0 in the textile sector. During the 6 weeks sessions, from 20th January till 24th February 2021. The virtual sessions will be highly interactive. 
Textile companies will be able to present their expectations in the implementation of specific challenges related to Industry 4.0 and receive potential solutions from tech providers. 
In addition, you will be able to participate in virtual B2B meetings with textile companies (from partner countries Portugal, Spain and France but also from Italy, Germany and the Czech Republic, EU TEXTILE 2030 EEIG partner countries will co-host this initiative) and other tech providers of industry 4.0 solutions through b2match platform. 
Join the CLAMTEX virtual ClusterXchange!!
>> Agenda and more information.