ADMANTEX2i project organizes virtual Matchmaking event dedicated to the production technologies and technical textiles sectors
The European project ADMANTEX2i of which PRODUTECH is a partner, will organize on February 23rd in the afternoon a virtual Matchmaking event dedicated to the sectors of production technologies and technical textiles.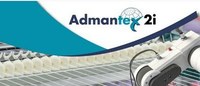 The European partnership ADMANTEX2i, which aims to promote internationalization and inteclusterization, will organize on February 23rd in the afternoon, a virtual matchmaking event, which will include a brief presentation on the ADMANTEX2i project, its internationalization strategy and the results of local workshops held by the clusters in the partnership.
The matchmaking event is aimed at strengthening the cross-border links by stimulating a more intense participation of the actors, and SMEs in particular to cooperation opportunities, especially for the development of the strategic technological areas of the sectorial industrial modernization to leverage efforts for joint internationalization.
Register now at: https://admantex2i-matchmaking-event.b2match.io/
The matchmaking event aims to provide a unique opportunity for SMEs and other participants to:
- present their know-how and innovative technologies
- find new technological solutions
- meet potential business partners
- find partners for internationalization
- meet and establish cross-sectoral contacts
- build alliances to going international together with joint value proposition
- engage SMEs for the joint internationalization activities
- strengthen sectoral resilience and growth opportunities
The target audience for the matchmaking are the associated SMEs from the 6 clusters that make up the ADMANTEX2i partnership: AEI TÈXTILS and ATEVAL SL in Spain, CITEVE and PRODUTECH in Portugal, Pôle EMC2 in France, and AFIL- Associazione Fabbrica Intelligente Lombardia in Italy.
ADMANTEX2i - Advanced Manufacturing and Advanced Textile Materials going international to strengthen resilience and to empower industrial recovery – is funded by the COSME program from the European Commission under the Cluster Go International call. The project aims to lead international cluster cooperation in the sectors of advanced manufacturing and advanced textile materials as an enabler for globally competitive and sustainable functional products in a broad range of high-end applications. The project strategic cooperation vision is that digitalization is key enabler for both sectors to boost circular economy business solutions and to strengthen resilience and to drive the recovery growth and the economic opportunities of European SMEs.
>> More information about the ADMANTEX2i project click here.
| | |
| --- | --- |
| | This project was funded by the European Union's COSME Programme. |