Access2Market the New Commercial Europen Platform
The European Union has created a platform to help companies to export from the European Union. The Platform will be presented on 10th February at a webinar on EU Trade Policy.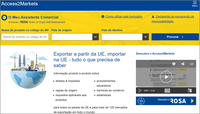 The Portuguese Presidency of the Council of the European Union will present the Access2Markets platform on 10 February.
This platform gathers relevant information for those who want to export to more than 120 markets from the European Union (EU) and import into the EU. Information such as customs procedures, trade barriers, product requirements, statistics, support tools and more can be found on this platform.
More information: