3rd Open Call of the EUHUbs4Data project seeks SMEs and entrepreneurs
EUHubs4Data seeks SMEs and entrepreneurs for experiments using datasets and services from the EUHubs4Data federated service catalogue.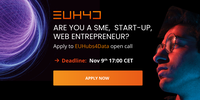 PRODUTECH DIH, participates in the EUHubs4Data Project, which has recently launched its 3rd Open Call for SMEs and entrepreneurs.
The 3rd EUHubs4Data Open Call is aimed at SMEs (including Start-ups) or groups of entrepreneurs proposing experiments that use the services and datasets of the EUHs4Data Catalogue for the development of innovative products or advanced services.
A Webinar on the Open Call will be held on 25 October. Participation is free but prior registration is required. >> Register for the Webinar 25 October
Applications are open until 9th November.
>> More information EUHubs4Data.
| | |
| --- | --- |
| | This project has received funding from the European Union´s Horizon 2020 research and innovation programme under grant agreement N.º 951771. |