2nd Open Call for Experiments of EUHubs4Data extended to February 8th
The 2nd Open Call of the EUHubs4Data project have extended the deadline for applications until the 8th of February. EUHubs4 data seeks SMEs, start-ups and groups of web entrepreneurs for experiments using the EUHubsData federated service catalogue and datasets to develop innovative products or advanced services.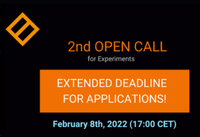 PRODUTECH DIH participates in the EUHubs4Data project, which has open until 8 February the 2nd Open Call for Experiments.
EUHubs4Data aims to select and fund 14 innovative experiments carried out by SMEs and entrepreneurs, making full use of the potential of EUHubs4Data datasets and service catalogue. These experiments should contribute to the growth of the global data economy and the creation of common European data spaces. These experiments can focus on different sectors of economic and social value for Europe and will help applicants to test their service offering and the sustainability of their business ideas.
The selected experiments will be able to test their data-driven solutions and products, bring them closer to the market and get support for their data-driven innovations. These experiments will get:
 - €60K of financial support
 - Access to the latest developments in Data Analytics and advanced resources in Big Data.
 - Technical and business coaching and ongoing follow-up support by Digital Innovation Hubs (DIHs), valued up to €70K per experiment
- Visibility and promotion through all project communication channels and beyond
- Development and advice on your Exploitation plan
Take advantage of this opportunity, only until the 8th of February.
>> More information about the Open Call
>> More information about EUHubs4Data
| | |
| --- | --- |
| | This project has received funding from the European Union´s Horizon 2020 research and innovation programme under grant agreement Nº 951771. |