PRODUTECH participates in the World Manufacturing Forum
PRODUTECH will be present at the "World Manufacturing" Forum to be held on 3rd and 4th May in Barcelona, Spain. The conference theme is "From Global Challenges to Grand Manufacturing Opportunities: Leading towards Growth and Sustainability".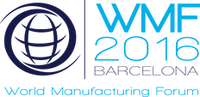 A series of expert speakers will participate and discuss issues such as government policies for enabling the fourth industrial (r)evolution, 21st century manufacturing, manufacturing intelligence, new manufacturing powerhouse challenges and disruptive strategies towards the next manufacturing era, among other topics.
More than 500 participants representing industry, research organizations, universities, public sector and other stakeholders will take part in the most important international event dedicated to the scenarios of the manufacturing sector.
This event is organized by FundacióCim, IMS, Politecnico Milano, Fundazione Politecnico Milano and INESC TEC.
More information in: http://www.worldmanufacturingforum.org/